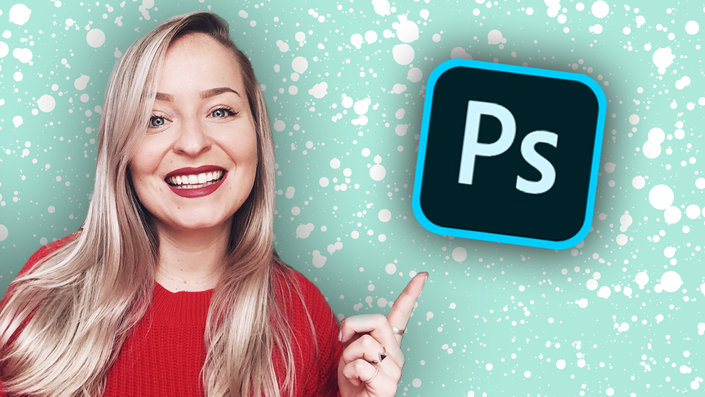 Photoshop for Social Media (Beginner Level)
Go from beginner to expert using one of the most powerful design and creation tools on the planet
Learning the world's most powerful design and photo editing software doesn't have to be a long, confusing process.
Don't believe the hype. Adobe Photoshop really isn't that scary, I promise.
For too many years you've sat on the sidelines and watched as your friends edited themselves into Beyonce's wedding photos, or in front of the Eiffel Tower when you know they've never set foot in Paris.
Now it's time to join the exclusive 'people-who-actually-get-Photoshop' club.
Are you ready to design something awesome today?
This is a simple and easy-paced course. Featuring hands-on lessons, more than 4 hours of video content, practice design samples and a Q&A section for ongoing support.
With a focus on practical design skills, you'll be able to confidently work in Photoshop as a freelancer, or support a business with their graphic creation needs. And yes, you'll also be able to do all the fun stuff like edit yourself into Ellen's infamous Oscars selfie too.
You know that you're awesome, now your photos and designs can be as well.
Course Curriculum
Resources + Q&A Section
Available in days
days after you enroll
What's on the inside?
PHOTOSHOP NAVIGATION

We'll begin the course by learning how to create a new Photoshop document and set it up correctly for both web and print. We'll navigate around the Photoshop workspace and have a look at the menu bar, options bar, tools panel and how keyboard shortcuts work. I'll also teach you how to save your designs so you never lose any important work!
ZOOM, HAND, MOVE AND THE LAYERS PANEL

In this lesson, we'll dive deeper into some of the most important tools in Photoshop. We'll cover the zoom, hand and move tools and their respective keyboard shortcuts, as well as how to understand and utilise the layers panel - one of the keys to your success as a Photoshop expert.
PHOTO EDITING, SELECTION TOOLS & BRUSHES

Photoshop is not just for creating beautiful designs, it's a powerful photo editing tool as well. In this lesson, I'll teach you how to enhance your favourite photos, how to use the selection tools like an expert and the many different awesome ways you can use Photoshop brushes!
THE RASTER TOOL AND LAYER MASKS

Everyone makes mistakes, and I've made a ton of them in Photoshop! This lesson is focused on understanding how to correctly use the different eraser tools so that your design quality is not affected. I'll also introduce you to the wonderful world of layer masks, a powerful function that will dramatically improve your design skills.
SPOT HEALING, CLONING AND USING FILTERS

The phrase "Photoshop it out" has become synonymous with removing unwanted people or things out of images. This lesson is dedicated to learning that skill, as well as the spot healing and cloning features that make it possible. We'll also get to know the filter tools and how they can help in editing portraits and other images.
MOCKUPS AND FLAT LAYS

In the modern business and social media world, mockups and flat lays are all the rage - and the majority of them are created with Photoshop. In this lesson we'll go through managing perspectives, shadows and glare, as well as helpful tips and tricks to ensure that your images look authentic and in proportion.
BRANDED GRAPHICS AND YOUR LIBRARY

This lesson is dedicated to creating graphics for social media, websites and business materials. We'll go through how to use gradients, colour overlays and also how to find and import a vector into Photoshop. Lastly, I'll show you how to take advantage of the library section to speed up your workflow.
CREATING MATERIALS FOR PRINT

Photoshop might be popular for creating digital imagery, but how about images you want to physically print? In this lesson, I'll show you exactly how to use art boards to create eBooks, how to create realistic eBook mockups and also how to use Canva and PowerPoint as an alternative to Photoshop.
Q&A

This section of the course is reserved just for you to be able to ask me anything and everything! There's so much to learn when it comes to Photoshop, and I'll be here for continuous support.
Your Instructor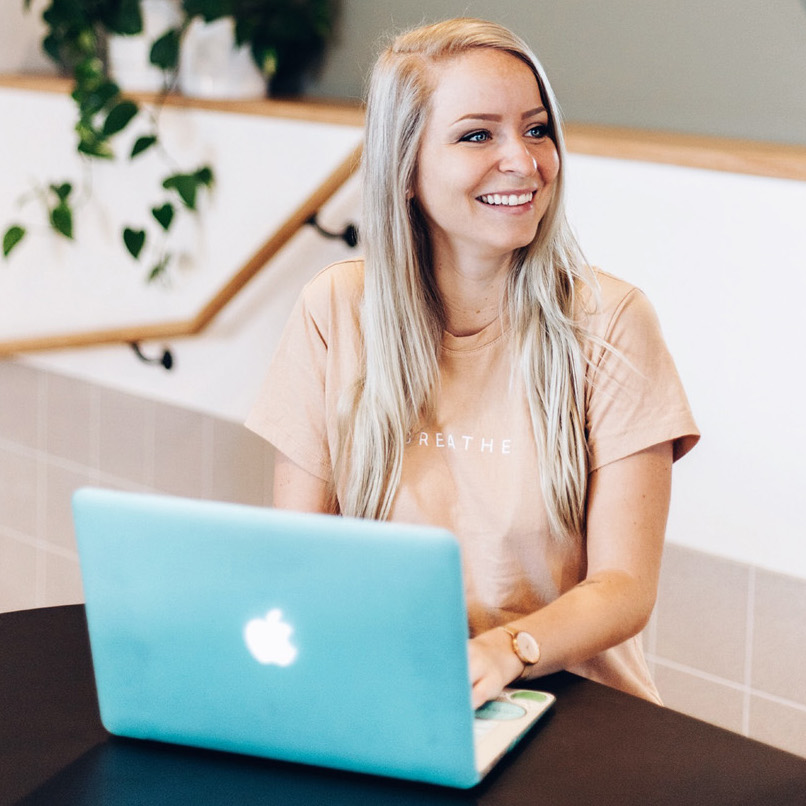 Hey you, I'm Maggie,

a digital marketing specialist, and your marketing and content creation instructor.
When I first wanted to learn the skills to begin working online, I struggled with the lack of quality information out there for beginners. And after learning the ropes the hard way and becoming a successful freelancer, I set out to help make things easier for creative overachievers like myself. So, I went ahead and created everything with you in mind.
My courses aren't made by someone with decades of experience who has forgotten what it was like to be a newbie and learned design and digital marketing and design in the era of Myspace and Microsoft Paint. They're made by someone who knows exactly what it's like to be trying to master 20 tools at once and stay on top of constant updates with each of them.
My passion for teaching comes from a combination of insatiable creativity and a constant need to pay it forward and help as many people as I can! So my ultimate goal is for you to feel empowered and excited about your future having learned the skills within this course!
Thanks for being here and I hope to see you on the inside!

Who is this course for?
This course is for you if:
You want to learn how to design amazing graphics for your social media platforms, your website or your business

You're a business owner who wants to learn how to design your own logos, business cards and eBooks without having to rely on professional designers

You're a freelancer who wants to take your design skills up a notch without needing to learn expensive software


Or you're just someone who enjoys learning new things and you can't wait to show off your new

design skills!
Frequently Asked Questions
When does the course start and finish?
This is a completely self-paced online course - you can decide when you start and when you finish :)
What if I am unhappy with the course?
I would never want you to be unhappy! If you are unsatisfied with your purchase, contact me within the first 30 days, and I will help in any way I can. But if you're still certain that this course is not right for you, I'll give you a full refund!
What happens if I get stuck... is there any support?
Yes absolutely! All students will be able to access the Q&A section of the course, so you will have a chance to ask me anything you might need some extra help with!
Do you need to have any Photoshop experience before taking this course?
Definitely not! I can teach you everything you need to know in order to create beautiful designs, from start to finish and with ongoing support. All you need is a positive attitude! Oh, and maybe a glass of wine (or three) for when it's time to cheers to your success! ;-)
I still have more questions!
No problem! Please contact me at
[email protected]
for anything and everything and I'll reply as soon as I can!
Are you ready to
master Photoshop
with me?
Let's do it!